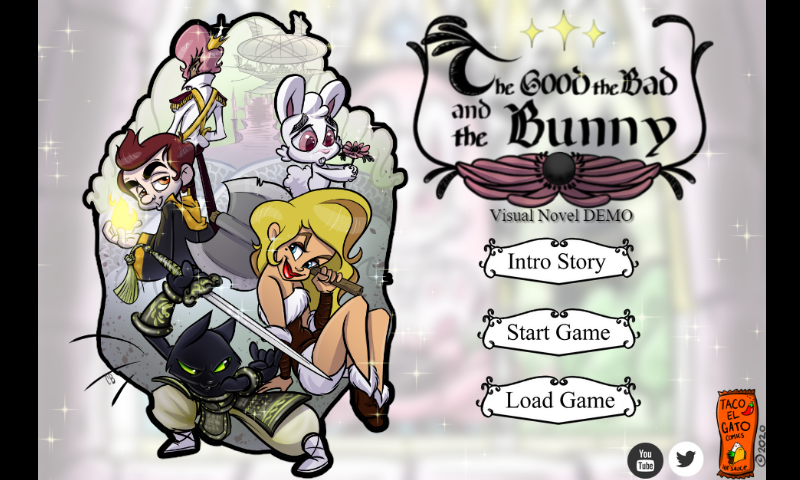 The Good The Bad And The Bunny VN DEMO
The Good The Bad And The Bunny VN DEMO
You must read the short intro comic of The Good The Bad And The Bunny first before playing visual novel!
Game/Story description:
3 Playable Characters! (On demo only Bernabie the rabbit is playable.)
The Good The Bad And The Bunny is a cartoony fairytale-like story, inspired by mythological and folk tales from around the world. The introduction is a free webcomic and continues as the game.
Bernabie the rabbit faithfully believes Prince Edwìn of Anémona, a kingdom of lucky rabbits, is a hero of a legendary myth that is said to one day bring peace to many lands. But the prince has gone through a troubling change in personality with the help of the royal wizard, Sebastian. Causing suffering to all the rabbits! Bernabie escapes and seeks out two rival leaders, believing that they could also be the other heroes from the legend-- Fearless Queen Beatrixe of the Jormungand Kin and warlord, Blackie Chan of the Glaring Clan.
Original characters and story by Taco El Gato Comics!
Comments
Log in with itch.io to leave a comment.
Hi, nice graphics, I loved the starting landscape the most.

This game is amazing tell funny too.

Look foward full game when come out.
Shucks! Thank you! I'm so glad you enjoyed it! The demo is like 5% of the story and there are 2 other playable characters. It also goes into some mythology and if you like romance, it's got that too. :D
I am working on the next character's demo.
You can follow the progress here:
Thank you again!
This game well be successful hit.
BEST CASE SCENARIO! Thank you for believing in my dream!